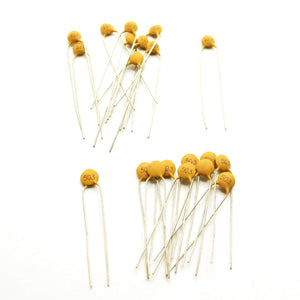 Thompson Guitar & Thrift
Ceramic Cap Tone Party Pack 10 of Each .022Uf And .05uF
Regular price
$10.45
$0.00
Ceramic Cap Tone Party Pack 10 of Each .022Uf And .05uF
These are excellent ceramic caps, super small and highly effective!

Ceramic Disc Capacitor

Tolerance: ±10%
Radial leads
Voltage rating: 100V

RoHS Compliant
.022uF capacitors are brighter and excellent for humbucker pickups.
.05uF capacitors are darker, and perfect for single coil pickups and bass guitars
Product Measurements:
.05uF: 0.7 in. × 0.2 in. × 0.1 in.
.022uF: 1.4 in. × 0.3 in. × 0.1 in.
---
More from this collection